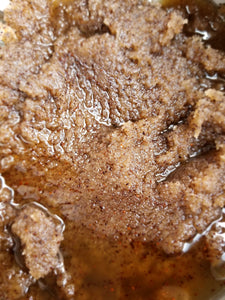 Touch Deep Exfoliation Organic Body Polish (Cafe Mocha - Coffee & Cocoa)
Regular price
$44.00
$0.00
The Café Mocha scrub contains real finely ground lightly roasted Arabica coffee beans, which provide an energizing caffeine boost to the skin (along with the invigorating aroma of coffee that everyone loves) helping wake you up in the morning. It also has real French cocoa absolute extract, full of powerful antioxidants. This particular blend is INCREDIBLE for stretch marks, cellulite, and old scar tissue. 
How we use it: Scoop a generous amount and apply to the body starting at our feet and buff upwards in circular motions. We hit our legs, thighs, butt, arms, and torso; paying attention to any dry or rough areas, but...don't overscrub yourself. Rinse off well with warm water and pat dry. We follow with our favorite 6|4 body moisturizer in the colder months.
Repeat three to four times every week or when your skin needs it. :)
What's inside: Cane sugar, grapeseed oil*, sweet almond oil*, avocado oil*, vegetable glycerin*, natural vitamin E*, essential oil blend.
*Organic Ingredients
---
Share this Product
---