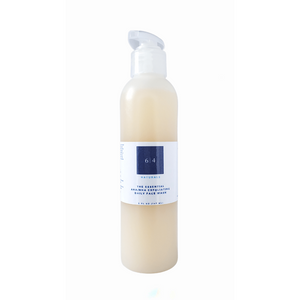 The Essential AHA/BHA Exfoliating Daily Face Wash
Regular price
$34.00
$0.00
A power cleanser gentle enough for daily use.
Our Essential AHA/BHA Exfoliating Daily Face Wash is an all-natural gentle cleanser set in an aloe vera gel base and packed with fruit and herbals extracts for a super lightweight texture that penetrates the pores to remove dirt & oil and soften the skin. 
How we use it: Our favorite way to use this is the "double cleanse" method twice a day, once in the morning to start the day and at night before sleep. Using a pea sized amount (about a quarter pump), wash your face for about 30 seconds, massaging thoroughly, using warm water and rinse. The first wash likely won't foam very much. Wash your face again - this time with slightly more cleanser than before. You should notice more foaming the second time. Massage into skin all over your face for about 60 seconds, paying special attention to any problem areas, and then rinse well with warm water. We follow with our favorite 6|4 toner, serum, and moisturizer - in that order. We always apply SPF in the daytime. :)
What's inside: Aloe Vera Leaf Juice, Glycerin, Green Tea Extract, Decyl Glucoside, Sodium Lauroyl Lactylate, Aspen Bark Extract, Bilbery Extract, Panthenol (ProVitamin B5), Sugar Cane Extract, Lemon Extract, Sweet Orange Fruit Extract, Xanthan Gum, Sugar Maple Extract, Fragrance (Essential Oil blend).
---
Share this Product
---